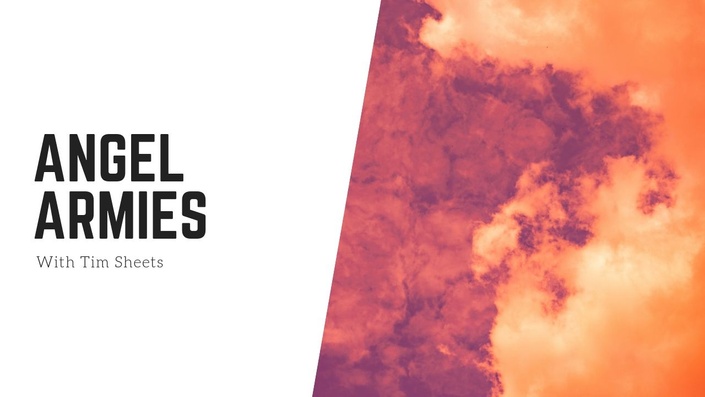 Angel Armies (For Credit)
An in-depth study on angels and how they assist in helping God's people realize their God given destiny.
Enroll in Course
The purpose of this course is to help each individual saint address how angels assist in helping God's people realize their God given destiny. It illuminates more than twenty ways angels minister to the heirs of salvation and the personality profile of angels; how they think and how they operate according to evidence found in scripture and how they will assist in the Third Great Awakening that has already begun.
"And when the day of Pentecost was fully come, they were all with one accord in one place. And suddenly there came a sound from heaven as of a rushing mighty wind, and it filled all the house where they were sitting. And there appeared unto them cloven tongues like as of fire, and it sat upon each of them. And they were all filled with the Holy Ghost, and began to speak with other tongues, as the Spirit gave them utterance." (Acts 2: 1-4, KJV).
The greatest days in church history are not in its past, they are in its future!
Your Instructor
Dr. Tim Sheets is an Apostle, Pastor, and Author based in southwestern Ohio. A graduate of Christ for the Nations Institute in Dallas, Texas, he returned to Ohio in 1979 to pastor The Oasis Church in Middletown. His vision is to raise up people who will authentically demonstrate the Church on the earth and passionately evangelize the world. His heart is for awakening and reformation in America.
Books written by Dr. Sheets include:
Angel Armies
A Bundle of Promise Heaven Made Real
Many of his teachings are also available on his website www.timsheets.org
Frequently Asked Questions
What's included in this course?
This course includes 10 video teaching sessions that range from 44 - 63 minutes each, PDF access to a detailed student workbook, and additional study notes.
How do I access the course?
This course is entirely online, so you can access it anywhere you have internet connection. This includes supporting mobile devices.
How long do I have access to the course?
You will have lifetime access as long as the course remains available in our school.
Is there homework for this course?
If you are taking this course for credit. All assignments are REQUIRED. For this course your work will include: a research paper, two book reports, session quizzes, and a final exam.
How long do I have to send in my work?
If you are taking this course as a credit student, you will have a maximum of 1 year to complete and submit all course requirements. *If all requirements are not submitted within a 1-year term and you still want to complete it for credit, you will need to pay for the course again and re-start the course from the beginning. This is due to annual enrollment fees that incur each year.
Do I have to buy any books?
If you are taking this course to receive credit hours, there are two books that you will need to purchase in order to complete the required homework assignments. ("Spiritual Realities: The Spiritual, Mystical and Supernatural" by Harold R. Eberle and "Rules of Engagement" by Martha Lucia)
What's the difference between Observer and Credit levels?
Observers enroll in this course to receive the valuable content included in the curriculum. Observers are not working to earn credit hours for this course. Credit students are working towards a degree in Biblical Leadership through ITC's degree program. As a degree student, you must be enrolled in ITC separately from your course enrollment. If you have not already enrolled in ITC, please do so here: www.goitc.org/nonresident/enrollment. In order to earn credit hours for this course, all course assignments and a research paper must be completed.
How do I find out more information on your degree program?
We are accredited under World Wide Accreditation Commission. We offer non-governmentally accredited degrees in Biblical Leadership from Associates all the way to Doctorate level. The first step to joining our degree program is to enroll on our website (direct link: www.goitc.org/nonresident/enrollment.) After you enroll, you will be academically placed and can begin earning credit hours through our courses.