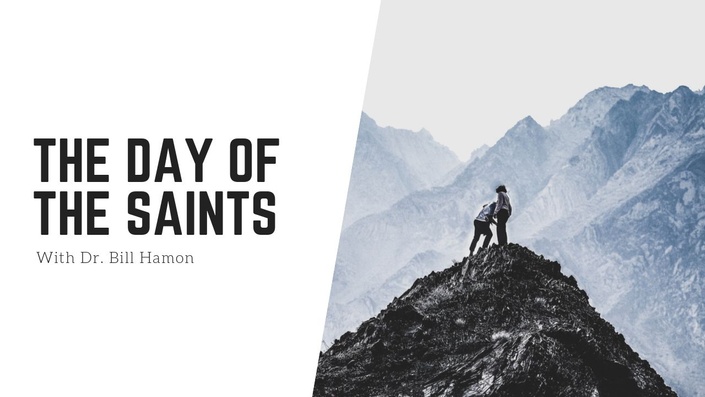 The Day of the Saints (For Credit)
Equipping Believers for Their Revolutionary Role in the Body of Christ and in Society!
Enroll in Course
The purpose of this course is to help each individual saint realize their God-ordained ministry role in the earth as it pertains to what will be the next major event of God's restoration move, The Day of the Saints.
We will study how God's intent from the beginning was to raise up an army of saints who would possess the kingdom and how God has restored each aspect of the five-fold ministry in order to fully equip the saints for the work of the ministry. We will discuss how God's restoration processes have been at work over the past five hundred years to make preparation for one of the greatest movements the church has ever known, the Saints Movement.
We are preparing to see God's Kingdom come in a revolutionary way as each saint begins to move in supernatural signs and wonders and demonstration power, not just within the four walls of the church buildings, but out in marketplace ministry.
This course will not only teach, but activate each student to begin to move in God's power and gifting.
Your Instructor
Bishop Bill Hamon is the founder of Christian International Ministries Network. Dr. Hamon has authored several books about the apostolic and prophetic. He travels throughout the world with a message calling believers to arise and fulfill their membership ministry and build the Kingdom of God.
Apostle Tom Hamon is the teacher for these sessions. He and his wife, Apostle Jane, are the senior pastors of Vision Church @ Christian International in Santa Rosa Beach, FL. Apostle Tom travels nationally and internationally, helping others as they establish their ministries and ministering God's direction to the Body of Christ.

Course Curriculum
Course Materials
Available in days
days after you enroll
Course Homework & Assignments (Optional for observer subscribers; required if taking for credit.)
Available in days
days after you enroll
Frequently Asked Questions
What's included in this course?
This course includes nine (9) video teaching sessions that range from 43 - 76 minutes each, Viewing access to a detailed student workbook, and additional study notes.
How do I access the course?
This course is entirely online, so you can access it anywhere you have internet connection. This includes supporting mobile devices.
How long do I have access to this course?
You will have lifetime access as long as the course remains available in our school.
Is there homework for this course?
If you are taking this course for credit. All assignments are REQUIRED. For this course your work will include: a research paper, two book reports, session quizzes, and a final exam.
How long do I have to send in my work?
If you are taking this course as a credit student, you will have a maximum of 1 year to complete and submit all course requirements. *If all requirements are not submitted within a 1-year term and you still want to complete it for credit, you will need to pay for the course again and re-start the course from the beginning. This is due to annual enrollment fees that incur each year.
Do I have to buy any books?
If you are taking this course to receive credit hours, there are two books that you will need to purchase in order to complete the required homework assignments. ("The Day of the Saints" by Dr. Bill Hamon and "Dream: Discovering God's Purpose for Your Life" by Dutch Sheets)
What is the difference between Observer and Credit levels?
Observers enroll in this course to receive the valuable content included in the curriculum. Observers are not working to earn credit hours for this course. Credit students are working towards a degree in Biblical Leadership through ITC's degree program. As a degree student, you must be enrolled in ITC separately from your course enrollment. If you have not already enrolled in ITC, please do so here: www.goitc.org/nonresident/enrollment. In order to earn credit hours for this course, all course assignments and a research paper must be completed.
How do I find out more information on your degree program?
We are accredited under World Wide Accreditation Commission. We offer non-governmentally accredited degrees in Biblical Leadership from Associates all the way to Doctorate level. The first step to joining our degree program is to enroll on our website (direct link: www.goitc.org/nonresident/enrollment.) After you enroll, you will be academically placed and can begin earning credit hours through our courses.