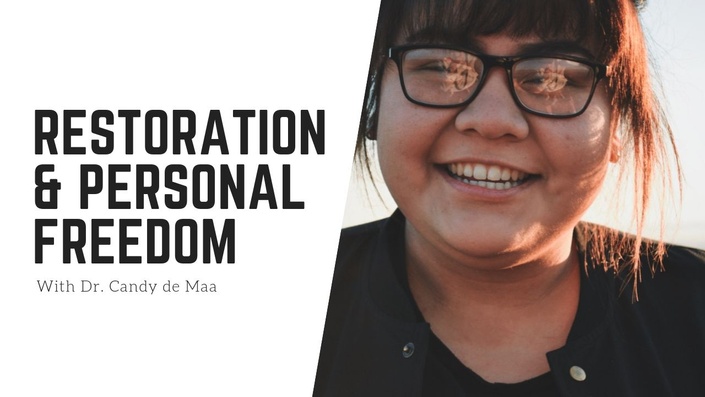 Restoration & Personal Freedom
This course will help you understand that the redemptive work of Jesus has the power to restore the believer in all areas of their life.
Enroll in Course
The Restoration and Personal Freedom course will help you understand that the redemptive work of Jesus has the power to restore the believer in all areas of their life.
These lessons will show you how the spiritual life influences people, and how the enemy tries to keep them bound to things God does not want by damaging the design of the Creator and limiting the divine potential in their lives. These classes will help you recognize patterns of strongholds and groups of demonic influences, learn how to break them, to remain free and to enjoy a life of freedom. You will see results in your own life and in your future generations.
Jesus offers complete restoration. This material will help you understand the principles of inner healing and deliverance, will minister to your personal life, and will serve you to help others.
Your Instructor
Dr. Candy de Maa is an ordained minister by Christian International under the leadership of Prophet Sharon Stone and Prophet Bill Hamon. Candy together with her husband Kees-Jan, have been Pastors for many years, Teachers in Seminars like Christ for the Nations, Directors of Television and Radio Stations. They served Mike and Cindy Jacobs and helped them start their International TV Ministry. Kees-Jan and Candy are now devoted entirely to ministering in the nations, and raising up Societal Architects through the University for Societal Architecture.
Candy de Maa teaches the Word of God with clarity and practical application. She also ministers in prophecy, healing, miracles, deliverance and inner healing. Her heart is to equip God's people to fulfill their purpose on this earth. The name of the Ministry "Fulfilling Destiny" reflects this vision and passion.
Candy and her husband have two children; Jonathan and Melody Joyce. They live in Florida, United States.
Frequently Asked Questions
What's included in this course?
This course includes over 11 hours of video teaching sessions that are broken down into 5 to 20 minute segments. You will also receive PDF access to a detailed student manual and study and activation assignments.
How do I access the course?
This course is entirely online, so you can access it by logging in anywhere you have internet connection. This includes supporting mobile devices.
How long do I have access to the course?
You will have lifetime access as long as the course remains available in our school.
When does the course start and finish?
Once enrolled, you are free to work through this course at your own pace. This allows you to work through the contents in your own schedule.